Hi Gang,
All too often gardening is one-dimensional and focused simply on creating a tidy, pretty space.  Learn how important it is to garden and landscape with native plants (they are beautiful too) so that butterflies, moths, birds, and all the creatures that bring us joy can survive and flourish.
Just about everyone knows that Monarchs need to lay their eggs on Milkweeds.  That is true of so many of our butterflies and moths; they need a specific native plant to lay their eggs on to create the next generation.  Otherwise they will "wink out."  Landscapes of Crape Myrtle (native to China and Korea), Bradford Pear (native to China and Vietnam), Forsythia (native to China), Hastas (native to China, Japan, and Korea),  Burning Bush (native to northeast Asia), Norway Maple (native to Europe and western Asia), etc. might as well be plastic to our native butterflies and moths, a dead end for their future.
Learn how simple it is to change the course of dwindling bird, butterfly, and moth numbers by gardening for LIFE with native plants.  Learn from the guru who has taught so many so much, Doug Tallamy: Entomologist, professor at the University of Delaware, and author of three  highly educational, eye-opening, and award-winning books.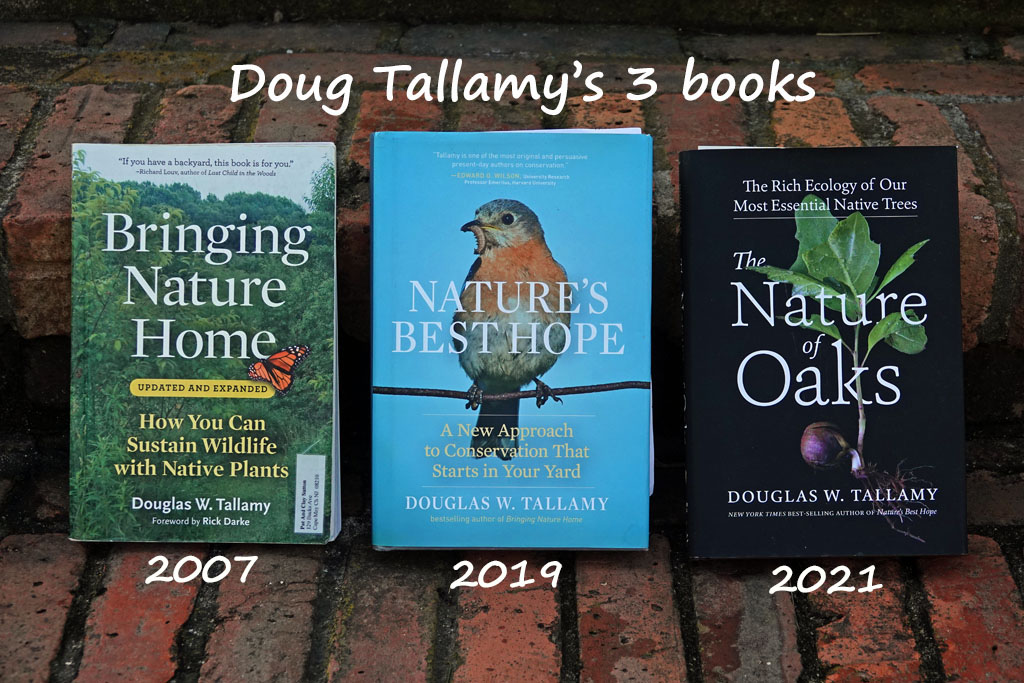 Don't miss this opportunity to hear Doug Tallamy speak.  Too, please help me spread the word.  Let's grow our numbers!   He is coming to Cape May County (Avalon, NJ) the evening of August 28th to share his program, "Homegrown National Park."  DO NOT MISS IT!!!  Bring your friends, family, neighbors, co-workers, and your landscaper (so you can speak the same language)!  Details follow:
Monday, August 28, 2023
7 pm
Doug Tallamy presents
"Homegrown National Park"
WHERE: Avalon Community Center
3001 Avalon Avenue
Avalon, NJ   08202
(FREE; no pre-registration necessary)
Hosted by the Avalon Environmental Commission
ABOUT THE PROGRAM: Our parks, preserves, and remaining wild lands – no matter how grand in scale – are too small and separated from one another to sustain the native trees, plants, insects and animals on which our ecosystems depend.
We can fix this problem by practicing conservation outside of wildlands, where we live, work, shop and farm. Thus, the concept for Homegrown National Park (HNP): a national challenge to create diverse ecosystems in our yards, communities and surrounding lands by reducing lawn, planting native and removing invasive species. The goal of HNP is to create a national movement to restore 20 million acres with native species, which can be accomplished if many people make small changes.
BIO:  Doug Tallamy is the T. A. Baker Professor of Agriculture in the Department of Entomology and Wildlife Ecology at the University of Delaware, where he has authored 111 research publications and has taught insect-related courses for 41 years. Chief among his research goals is to better understand the many ways insects interact with plants and how such interactions determine the diversity of animal communities. His books include Bringing Nature Home, The Living Landscape, co-authored with Rick Darke, Nature's Best Hope, a New York Times Best Seller and The Nature of Oaks, which won the American Horticultural Society's 2022 award. In 2021 he cofounded Homegrown National Park with Michelle Alfandari. His awards include recognition from The Garden Writer's Association, Audubon, The National Wildlife Federation, Allegheny College, Ecoforesters, The Garden Club of America and The American Horticultural Association.
Doug Tallamy's book, Nature's Best Hope, planted the idea of Homegrown National Park.  I've entered my half acre wildlife habitat to the HNP map.  Have you?  I can't wait to hear his presentation on this topic!
See you there ?
Pat