2020 VIRTUAL Tour of Pat Sutton's Private Wildlife Garden (43 Years in the Making)
Our wildlife garden has evolved over the last 43 years from a lawn and very few plantings (a Lilac bush and Day Lilies) to probably 100+ native plants and many different components (perennial garden, pocket meadow, shade trees and gardens, wildlife ponds, native woodland, living fences, etc.)  that all lure in and benefit wildlife.  Read this brief history to learn more.
This is the 4th year I have led tours of my own wildlife garden for CU Maurice River, a non-profit organization (registration is through CU Maurice River, not through me) and with Covid-19, the 2020 Tour is VIRTUAL.   Details follow:
CU Maurice River
hosts
WHAT
VIRTUAL GARDEN TOUR
of Pat Sutton's Private Wildlife Garden
40+ Years in the Making
WHEN
Tuesday, July 14th, 2020
6:00 – 8:00 p.m.
WHERE
From the comfort of your home
COST
$10 for members of CU Maurice River
$20 for non-members
RSVP REQUIRED
Please let CU Maurice River know you plan on attending by clicking the sign-up link below. A Zoom link will be sent to you prior to the event. The registration closes an hour before the start of the event.
SIGN UP LINK
or call CU Maurice River
856-300-5331
CU Maurice River invites participants to stay on after the virtual video tour for a question and answer section with Pat Sutton after the presentation.
* * * * * * * * * * * * * * * * * * * * * * * * * *
About the VIRTUAL

Tour of Pat Sutton's Private Wildlife Garden

in Goshen, NJ (Cape May Co.), 
largely a NATIVE PLANT OASIS 
on July 14, 2020 (Tuesday evening), 6:00-8:00 pm
I'll bet many of us have gardened more than normal this year, the year of Covid-19. Our wildlife garden and working in it has kept me sane during these uncertain times. I must give some credit for my sanity too to all the garden visitors I've discovered, learned about, and enjoyed this year. There have been so many fun sightings perhaps because we've been home a lot, out in the garden more, and savoring more. I hope this has been the case for you too.
I am looking forward to sharing with you our 43-year old wildlife garden during a virtual tour Tuesday evening, July 14. If you should join me and see the footage, keep in mind it hasn't always looked like it does now. Like each and every one of us, I have made some serious mistakes over the years and paid dearly for them. I love sharing my garden, not only because it is packed with Nature Happenings, but also because in doing so, I might help save others some of the angst and frustration I went through. I love sharing my garden also because I have learned so much about wildlife gardening and how wildlife responds to habitat. Truly, create it and they will come!
We see so much in our little 1/2 acre for many reasons. We barely have any grass left to mow. There are robust native perennials and understory trees and shrubs under all of our trees, not lawn. Rather than fight their thugishness, I am thrilled when shade-loving perennials I've planted like Common Blue Wood Aster seed further and further out into the lawn each year. More native plants and less lawn equals more habitat. One section of what had been lawn is an itty bitty meadow instead (12 feet x 12 feet). The meadow of native grasses and perennials compliments the formal perennial garden and hosts nectaring and egg-laying butterflies and other pollinators, nesting Box Turtles, and more! Our woods take up about one-third of our property and are filled with native trees, shrubs, vines, perennials, grasses, a sizable brush pile and many smaller brush piles, a butterfly house (made of overlapping branches with roofing shingles in between to keep weather out), and a seating area that is always cooler than the garden and overlooks a busy Hummingbird feeder (Meghan got footage of a hungry female during our virtual tour). Many of the butterflies that nectar in our garden lay their eggs on native trees, shrubs, grasses, and vines in our woods. The woods were an impenetrable wall of Multiflora Rose until 2009 when we reclaimed them, so many of the native trees and shrubs are eleven years old. In ridding the woods of invasives the seed bank of natives had a chance. The transformation has been complete, but does take routine vigilance because the very birds we attract are eating invasives elsewhere and sprinkling seeds of those invasives in our woods and elsewhere on our property.
So, join me if you can Tuesday evening for a Virtual Tour of my Private Wildlife Garden. Meghan Thompson and Teresa Brown (of CU Maurice River) and I have been in the midst of designing this garden tour to highlight the variety of native flora in my yard and the diversity of wildlife it attracts on film. CUMR's Meghan Thompson is putting together the footage for your viewing pleasure. This way you can see what is in bloom and who visits in July. I'll be narrating the garden tour, which will include some of my favorite garden still shots from this spring and past magic moments. This virtual presentation will showcase many of the pollinators and sights from this season.
You may want to download and print the latest update of my "Gardening for Pollinators" Handout (CLICK HERE), which includes lots of sage advice, Chocolate Cake nectar plants month-by-month, and sources of helpful signage.  It will prove very helpful during the Virtual Tour and afterwards!
* * * * * * * * * * * * * * * * * * * * * * * * * *
For twenty-three years (1991-2014), I led "Tours of Private Wildlife Gardens" in Cape May County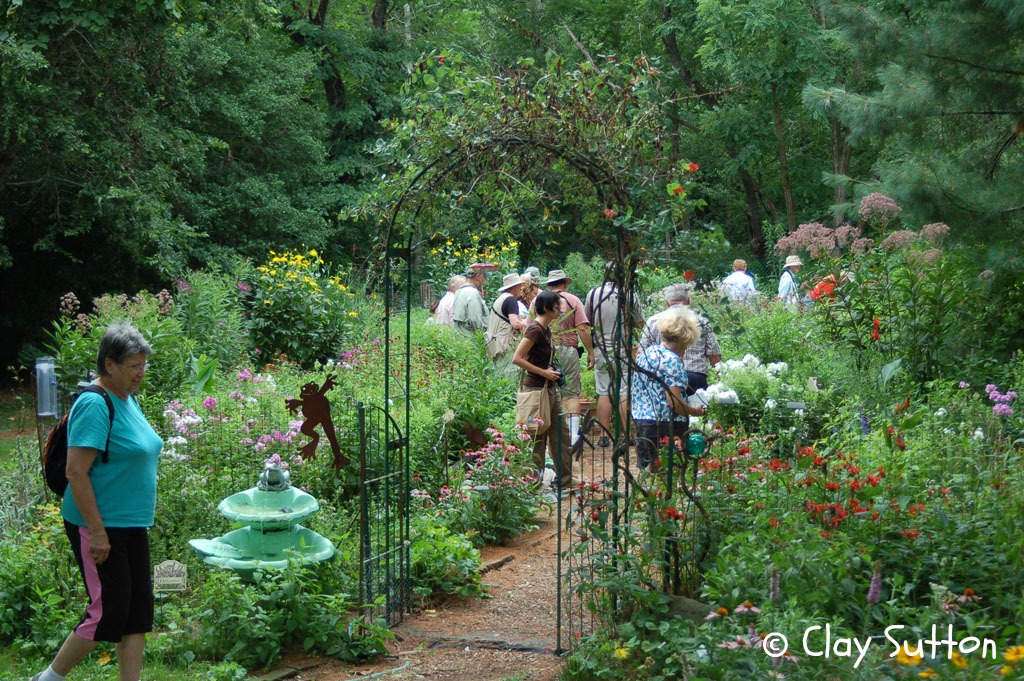 Pat and Clay Sutton's garden during the July Tour 2014
For twenty-three years (1991-2014), I led "Tours of Private Wildlife Gardens" in Cape May County.  I saw these tours as one of the best ways  to "grow" more wildlife gardeners.  You can see the excitement in the photo above as tour participants find, study, and share with each other butterflies, spiders, caterpillars, native bees, frogs, turtles, hummingbirds, and the beautiful nectar plants, host plants, wildlife ponds, water features, and habitats that have attracted them.
Initially I led these tours for NJ Audubon's Cape May Bird Observatory, where I worked as the Program Director.  Between 2007-2014 I led the tours for NJ Audubon's Nature Center of Cape May.
Many of the owners of these beautiful, private, wildlife gardens had taken workshops with me and / or attended these tours.
Many garden owners shared with me that a personal goal was to have their own garden included on these tours.  The number of wildlife gardens grew and grew.  Eventually there were so many educational gems to share that I broke Cape May County into three regions and led back-to-back tours, covering different parts of the county each day.  I led these tours in July, August, and September so attendees could see first hand the different "Chocolate Cakes" in bloom month-by-month and the variety of wildlife attracted.
On the final tour, garden-owner Gail Fisher presented me with my very own Chocolate Cake made by her Mom (it was delicious).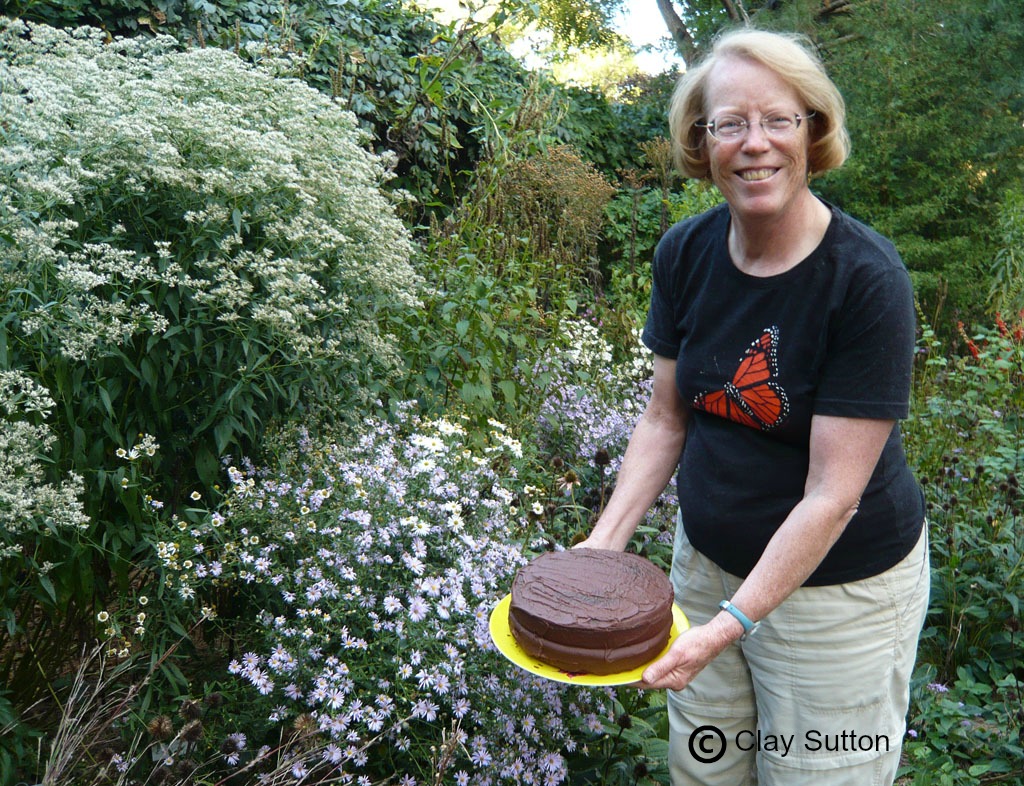 And to further spoil us on that final September 2014 garden tour Gail Fisher served homemade Chocolate Cupcakes.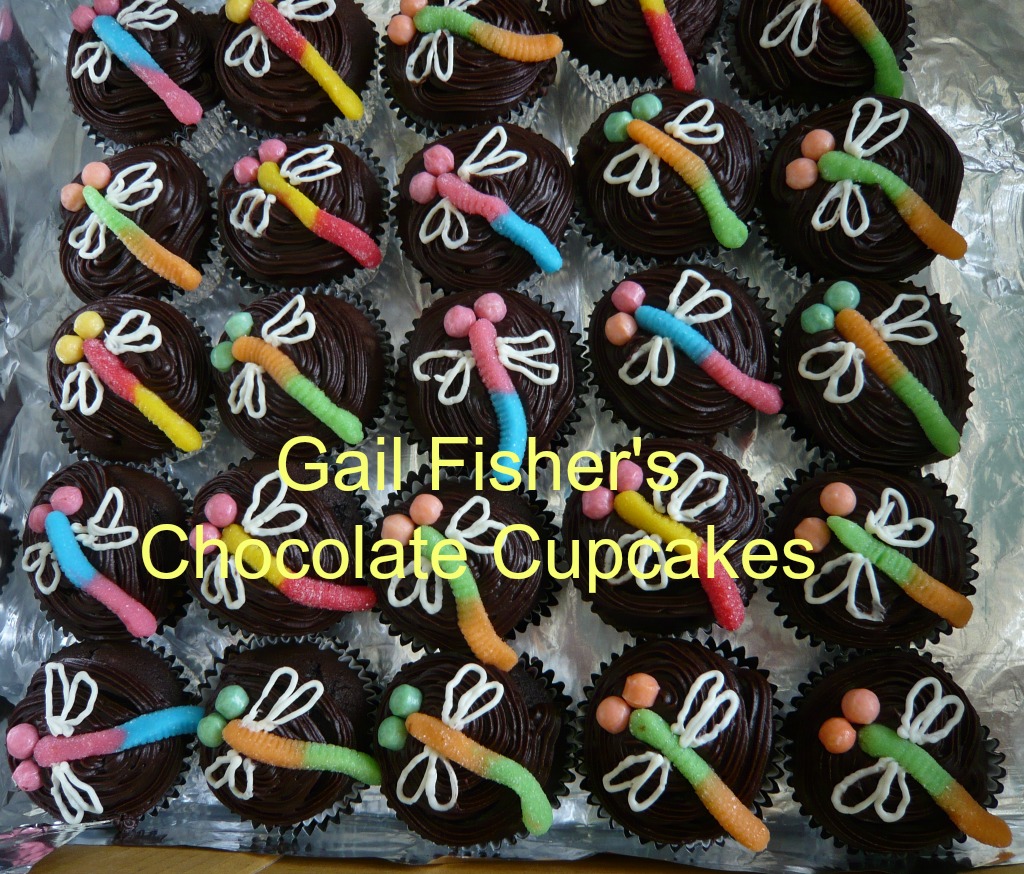 TAKE A VIRTUAL TOUR OF PRIVATE WILDLIFE GARDENS
Many of the gardens that were included on the Cape May County tours can be seen in the photo galleries below.  These photos (taken over the years) truly record the evolution of these private wildlife gardens and may give you some great ideas for your own garden.
South Tour (Cape Island: Cape May, Cape May Point, West Cape May, and Lower Township)
Mid-County Tour (North Cape May, Villas, and Erma)
North Tour (Cape May Court House, Goshen  . . . including my own garden, Dennisville, Eldora, South Seaville, and Ocean View)